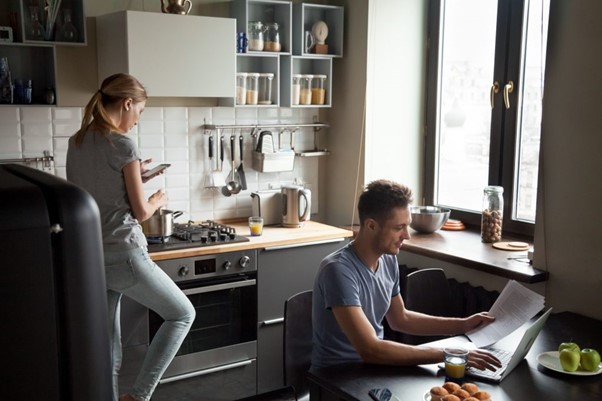 Te bezprzewodowe urządzenia i sieci mają ogromny wpływ na wszystko, od systemów transportowych, aż po system opieki zdrowotnej. Rozwój IoT oznacza istotną zmianę w zakresie rozwoju technologicznego. Często określa się go mianem prekursora kolejnej rewolucji przemysłowej, zwanej "Przemysłem 4.0". Wszystko to dlatego, że technologia ta umożliwia nam korzystanie z bardziej inteligentnych urządzeń, usprawnionych procesów komunikacji i usprawnionej automatyzacji.
Technologia wpływa na ważne projekty oraz sposób rozwoju "inteligentnych miast", a także infrastruktury krytycznej. Bardzo często stykamy się z nią także w codziennym życiu. Tego rodzaju rozwiązania można znaleźć bowiem niemal na każdym kroku, od inteligentnych głośników po zaawansowane systemy bezpieczeństwa.
Oto trzy przykłady technologii IoT, która już stanowi integralną część codzienności:
 IoT w biurze
Z uwagi na dużą liczbę pracowników, wielkopowierzchniowe biurowce są nierzadko wymagające i kosztowne w eksploatacji. Działy operacyjne w dużych firmach z branży nieruchomości zdały sobie sprawę z tego, w jaki sposób technologia IoT może usprawnić funkcjonowanie budynków, jednocześnie pozwalając ograniczyć koszty.
W dużych budynkach często zdarza się na przykład tak, że jednocześnie wykorzystuje się tylko określone obszary. Posiadanie tylko jednego włącznika i wyłącznika dla całego systemu wentylacji budynku i jego oświetlenia może szybko poskutkować wzrostem kosztów oraz utratą energii. Jeżeli jednak te funkcje zostaną powiązane z faktycznym wykorzystywaniem budynku, nie tylko uda się ograniczyć koszty eksploatacji i zużycie energii, ale także ślad klimatyczny.
Można to zrobić, montując odpowiednie systemy dostępu. Wykrywają one, kiedy korzysta się z określonych stref budynku. Biorąc to pod uwagę, aktywują wtedy tam oświetlenie, ogrzewanie, a także system wentylacji. Technologia IoT pozwala także określić, w jakim stopniu wykorzystuje się konkretne części budynku, co umożliwia odpowiednią koordynację działań. Dzięki temu z łatwością można opracować plan sprzątania i konserwacji.
 IoT w systemie opieki zdrowotnej
Urządzenia IoT wykorzystuje się w systemie opieki zdrowotnej już od dłuższego czasu, pozwalając pracownikom świadczyć usługi medyczne, w tym zdalnie nadzorować pacjentów oraz stan pracy urządzeń medycznych. Ostatnio na rynku pojawiły się nowe, innowacyjne technologie służące do wspierania pacjentów.
Za przykład może tu posłużyć norweska firma No Isolation. Działa ona na rzecz zmniejszenia izolacji społecznej i osamotnienia za sprawą tzw. "gorącej technologii". Opracowany przez tę firmę robot AVI wykorzystuje technologię IoT, pozwalając przewlekle chorym dzieciom uczestniczyć w lekcjach oraz życiu społecznym szkoły. Robot AVI ma swoje miejsce w klasie, pomagając chorym dzieciom widzieć i słyszeć to, co dzieje się w klasie, a dodatkowo umożliwia także interakcje z domu czy ze szpitala. Za pośrednictwem bezpiecznej aplikacji dziecko może komunikować się z koleżankami i kolegami lub zgłosić się do odpowiedzi na pytanie.
Technologia IoT nierzadko pozwala poprawić jakość życia ludzi w nawet najbardziej oddalonych zakątkach świata. Rozwiązania pomagają dzieciom pozostać w kontakcie z przyjaciółmi i zachować pewien stopień normalności, gdy nie są obecne podczas stacjonarnych zajęć.
 IoT w rolnictwie
Z uwagi na ciągły wzrost liczby ludzki na świecie, który generuje coraz większe zapotrzebowanie na żywność, a także coraz bardziej nieprzewidywalne i ekstremalne warunki atmosferyczne, uprawa roli staje się coraz bardziej wymagająca. Za sprawą technologii rolnicy otrzymują jednak szczegółowe dane i analizę warunków uprawy, co zwiększa szanse na udane zbiory.
Z uwagi na to, że gospodarstwa rolne często obejmują rozległe tereny, na których znajduje się kosztowny sprzęt, możliwość monitorowania zwierząt gospodarskich, maszyn i innych urządzeń pozwoli rolnikom chronić swój dobytek. Dodatkowo urządzenia IoT i aplikacje pomagają im podejmować lepsze i bardziej świadome decyzje w okresie wzrostu roślin.
Przykładowo inteligentne urządzenia mogą dostarczać ważne informacje na temat stanu gleby lub upraw. Dzięki automatycznym powiadomieniom rolnicy mogą przewidywać ewentualne problemy. Odczyty z gleby ułatwią również dokonywanie świadomych ekologicznie wyborów w zakresie stosowania nawozów oraz wody.
 IoT w przyszłości
Nie ulega wątpliwości, że rozwiązania IoT będą w coraz większym stopniu stawać się częścią naszego społeczeństwa i codziennego życia. Ponieważ zdano sobie sprawę z tego, jak ogromne korzyści zapewnia ten rodzaj rozwiązań, rośnie nie tylko rynek, ale i popyt na tego rodzaju urządzenia. Pozwolą nam one lepiej stawiać czoła wyzwaniom w systemie opieki zdrowotnej, a także zapobiegać wypadkom, organizować społeczeństwo czy też zwiększać produktywność.
W firmie AddSecure opracowujemy rozwiązania w oparciu o inteligentne urządzenia, które dostarczają, agregują oraz przekazują dane. Dzięki nim świat może stawać się bezpieczniejszym i jeszcze bardziej inteligentnym miejscem.
E-book: Słowa i zwroty powiązane z  Internetem Rzeczy
Pobierz nasz słownik i zapoznaj się z najważniejszymi wyrażeniami w Internecie Rzeczy