Profesjonalne rozwiązania dla flot korporacyjnych
Analizuj swoją flotę w wymiarze kosztowym, podatkowym, ewidencyjnym i eksploatacyjnym. Rozliczaj pracowników z jazd prywatnych i służbowych.
Korzyści:
Automatyzacja procesów ewidencyjnych

Rozliczenie pracowników z jazd prywatnych

Wszystkie narzędzia flotowe w jednym miejscu

Raport TCO – kalkulacja Całkowity Kosztu Posiadania floty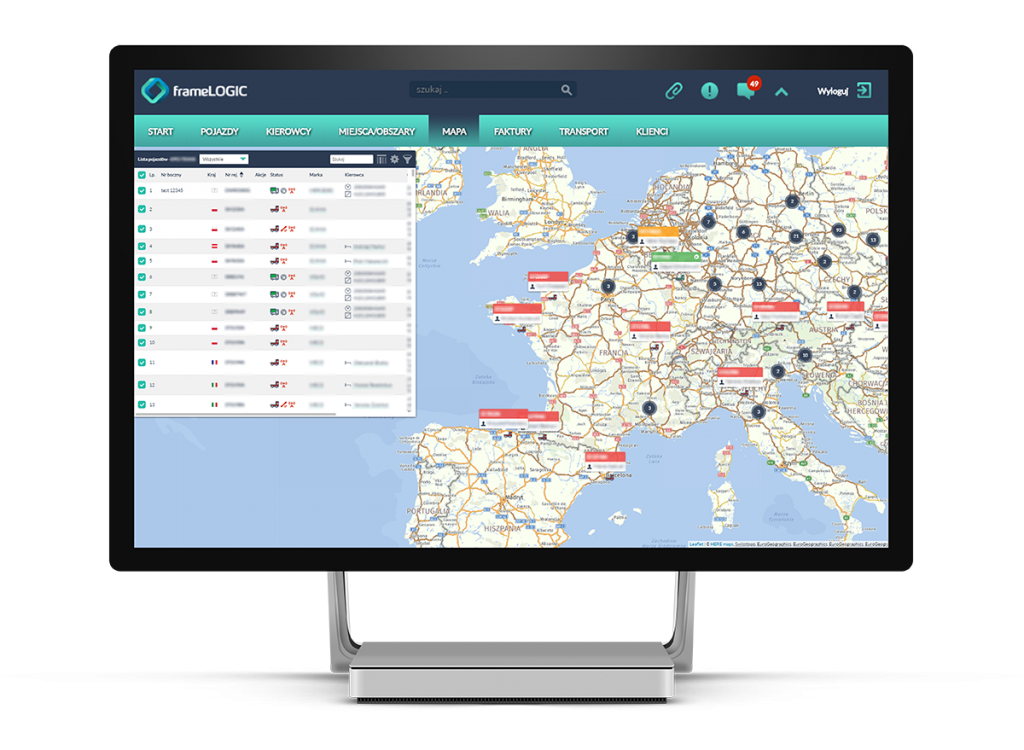 Monitoring pojazdów GPS
Monitoring pojazdów jeszcze nigdy nie był tak prosty i przejrzysty.

Monitoruj pozycję i pracę Twoich pojazdów dzięki wysokiej jakości rejestratorom GPS, z zaawansowaną analizą wstecz.

Zyskaj informację o utrudnieniach na drogach w czasie rzeczywistym.

Definiuj własne miejsca i obszary. Kontroluj faktyczne wykonanie zaplanowanych tras.

Automatycznie gromadzone dane stworzą podsumowania dające pełny obraz aktywności Twojej floty.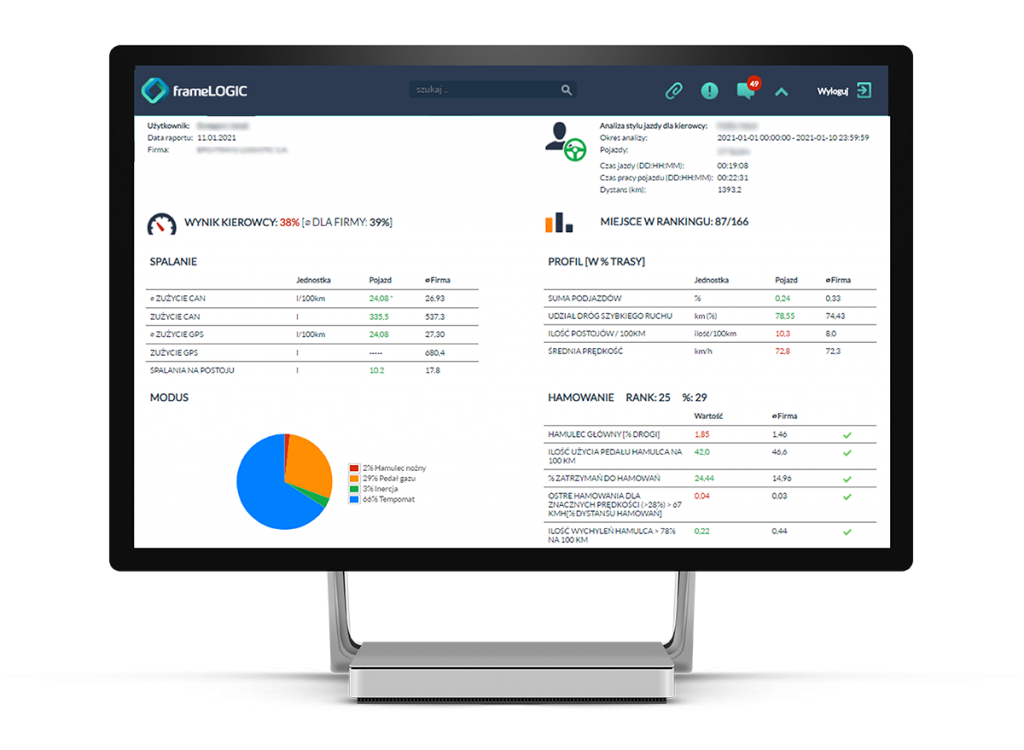 Ecodriving
Ecodriving to jeden z naszych najbardziej zaawansowanych produktów, który w detalach mierzy zachowania kierowców na drodze.

Wszystkie dane gromadzone w systemie są analizowane przez zaawansowany algorytm, który tworzy ranking kierowców.

Dzięki temu Klienci zyskują obiektywne porównanie umiejętności kierowców, szczegółową informację o eksploatacji pojazdów, oszczędności paliwowe dzięki lepszej jeździe oraz niższą emisję CO2 do środowiska.

Ecodriving to rozwiązanie wyraźnie wskazujące przestrzeń do poprawy, co przekłada się na lepszą i bezpieczniejszą jazdę kierowców.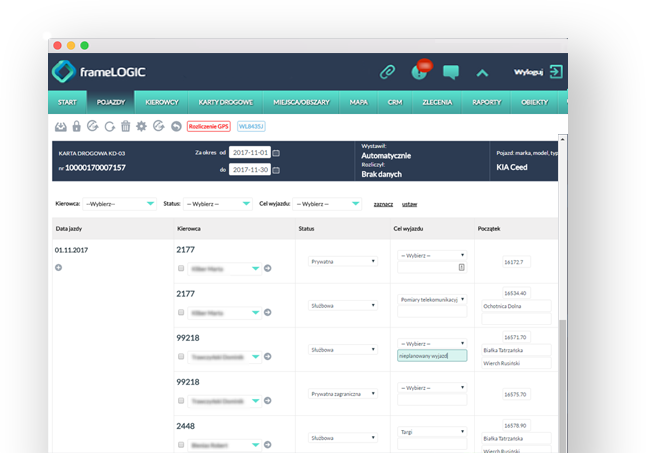 Rozliczanie i controlling (EPP / Karta Drogowa / VAT26 / TCO)
Kompletny zestaw narzędzi do automatycznego rozliczania jazd służbowych i prywatnych w dużych flotach korporacyjnych.

Szereg narzędzi do kompleksowego prowadzenia ewidencji przebiegów pojazdów (EPP), raportowania do Urzędu Skarbowego jazd służbowych (VAT-26) oraz rozliczania ponadryczałtowych jazd prywatnych pracowników (CIT) z automatyczną estymacją obciążeń dla kierowców.

Raport Kosztów Całkowitych Posiadania Pojazdu (TCO) - Łatwo monitoruj wszystkie koszty dotyczące danego pojazdu w jednym miejscu. Od kosztów finansowania, ubezpieczenia, napraw do kosztów tankowań.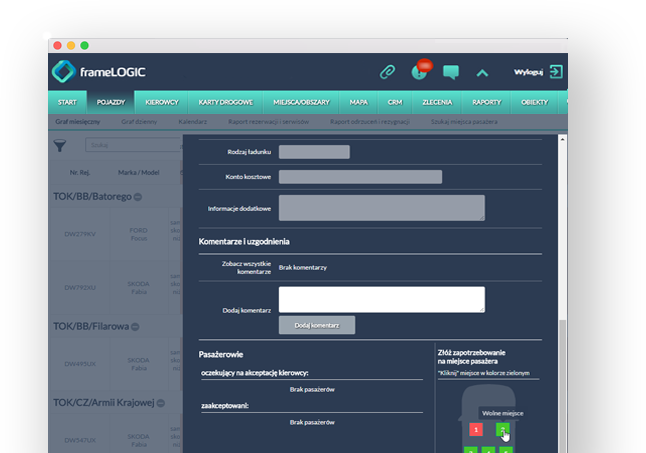 Rezerwacje / Carsharing
Nasze narzędzie całkowicie zmienia podejście do zarządzania rezerwacjami.

Szereg użytecznych funkcji, jak np. czytelny harmonogram, opcja zgłaszania zapotrzebowania na pojazdy czy rezerwacja konkretnego miejsca w pojeździe na wybranej trasie świetnie organizują pracę w całej firmie i pozwalają skutecznie planować wykorzystanie floty.

Zestaw raportów analitycznych

Wymiana danych z innymi modułami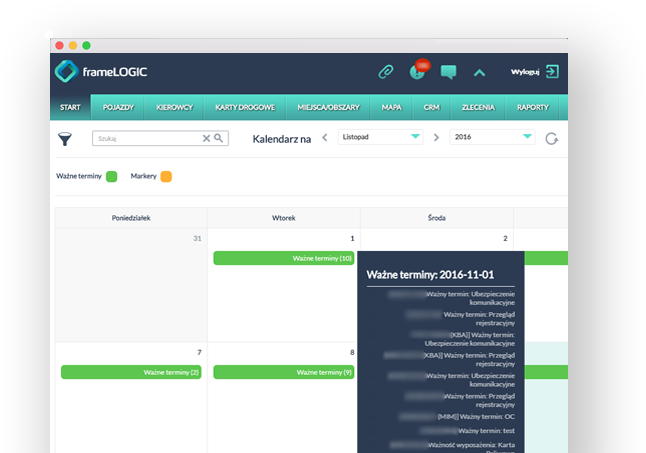 Gospodarka techniczna
Narzędzie umożliwia utrzymanie floty w wysokiej dostępności i sprawności technicznej.

Rozszerza podstawową ewidencję pojazdów i kierowców m.in. o: terminy ubezpieczeń, opłaty rejestracyjne, winiety, przeglądy, szkody, etc.

Moduł automatycznie przypomina o terminach wymagających uwagi użytkownika.