Pakiet mobilności
Przygotowujemy nasz TMS, aby pomógł Ci spełnić wymagania Pakietu Mobilności
Od lutego 2022 cały transport międzynarodowy na terenie Unii Europejskiej czeka nie lada rewolucja. Tego dnia w życie wejdzie drugi etap zmian w ramach Pakietu Mobilności. Wiąże się to z dodatkowymi obowiązkami wobec przewoźników.
Kierowcy, którzy podlegają nowym zasadom delegowania muszą otrzymywać pełne minimalne wynagrodzenie, jakie przysługuje w kraju, w którym wykonują swoją pracę. 
Założenia Pakietu Mobilności wymuszają na firmach transportowych czasochłonną pracę wyliczania należnego wynagrodzenia w zależności od typu przejazdu oraz krajów w których kierowca wykonał pracę. W AddSecure wychodzimy na przeciw wymaganiom branży, dlatego chcemy wykorzystać potencjał systemu TMS i pomóc firmom transportowym znacząco przyspieszyć proces rozliczania kierowców.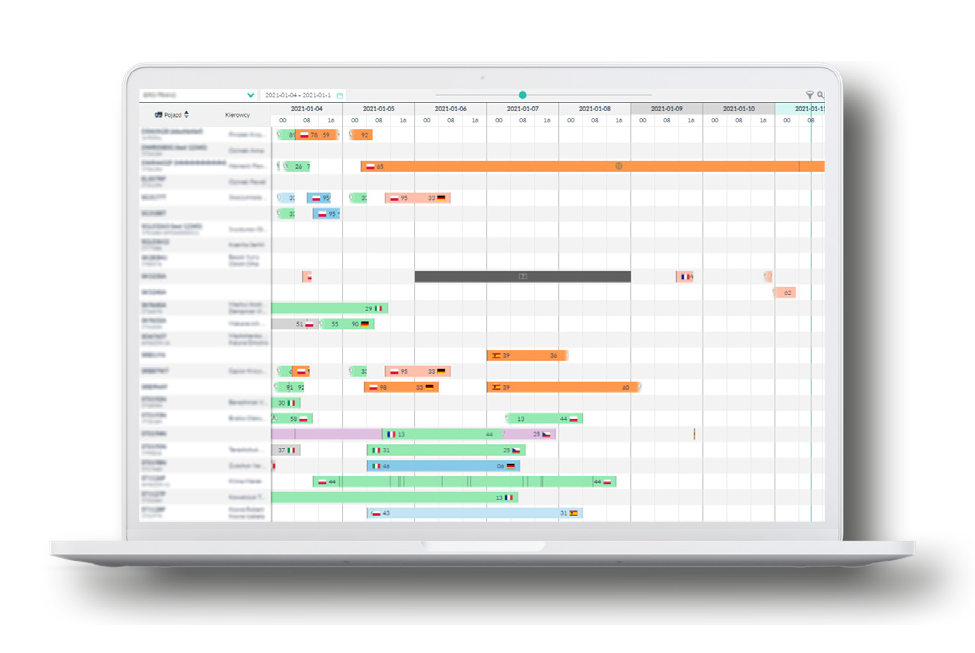 Dostosowujemy nasz TMS do wymogów stawianych przez Pakiet Mobilności
Nasz zespół na bieżąco monitoruje sytuację i oczekuje na wytyczne ze strony Unii Europejskiej. Już dziś nasz TMS to ogromne źródło danych dla firm transportowych. Ciągły rozwój systemu zaowocował tym, że już w tej chwili większość funkcjonalności potrzebnych do rozliczania płac w transporcie międzynarodowym jest już gotowych. Obecnie pracujemy nad dostosowaniem tych funkcjonalności pod kątem Pakietu Mobilności, aby firmy mogły szybko rozliczać kierowców według nowych zasad.
Nasz system TMS już posiada informacje niezbędne do poprawnego rozliczania kierowców za granicą:

Zmiany załogi
System uwzględnia zmiany załogi w danym pojeździe

Dokładny moment załadunku / rozładunku
Rozpoznawanie rzeczywistego czasu podjęcia transportu i jego zakończenia

Dokładny czas i miejsce przekroczenia granic
Wskazanie momentów obowiązywania stawek danego kraju

Podział na konkretne typy transportu
Rozpoznawanie typu przejazdu (tranzytowy, bilateralny, cross-trade czy kabotażowy)

Dojazdy do załadunku
Wykrywanie dojazdów do załadunku oraz wykazywanie momentu kiedy pojazd nie wykonywał przewozu
Dzieki swojej elastyczności TMS jest w stanie dostarczyć niezbędnych danych w dwóch wariantach:

Korzystasz z zewnętrznych systemów rozliczeń:
Otrzymasz dane wejściowe, dzieki którym zasilisz twoje systemy rozliczania kierowców

Chcesz samodzielnie rozliczać kierowców:
Otrzymasz pełen raport ze stawkami płac minimalnych w danym kraju gotowy do rozliczenia
Korzyści biznesowe:
Wszystkie niezbędne dane dostępne w jednym miejscu
Automatyzacja procesu rozliczeń kierowców
Redukcja nakładu pracy pracowników odpowiedzialnych za rozliczenia
Skrócenie czasu wyliczenia wynagrodzeń
Weryfikacja faktycznego przekroczenia granic przez kierowców
Kontrola poprawności danych